What's the challenge? 10 Recipes… 2 Hours! In this year's Thanksgiving cooking class, you'll not only get all the recipes but tons of tips and tricks to make this year's holiday FUN and Stress-free!
Here's a glimpse at what we're doing 👇🏼
Thanksgiving Cooking Class Sneak Peak
If you're wondering what recipes we'll be covering in class here's a little peak
Thanksgiving Menu
Roast Turkey
Chocolate Bourbon Pecan Pie
Apple Crisp
Ultra Creamy Butter Herb Mashed Potatoes
Crispy Brussels Sprouts & Butternut Squash with Cranberries and Walnuts
Strudel Topped Sweet Potato Casserole
Savory "Kicked-Up" Stuffing/Dressing
Creamy Cheesy Cauliflower Gratin
Garlic Butter Rolls
Freebies You Don't Want to Miss
To get into the holiday spirit we'll have a few Giveaways and if you want to get a taste of the class join me LIVE Nov. 11 at 4pm EST simultaneously on Instagram AND on my personal FaceBook page. I'll be wrestling a live turkey!
Ok, no not really… But almost! What I will be doing is a LIVE demonstration on how to cut up a raw turkey for quick easy roasting. I'd love to see you there and you can ask any questions about the class.
Questions covered in class
Have you ever needed to QUICK THAW a turkey? What about…
How to cook a turkey in less than 2 hours
A little Thanksgiving menu inspiration?
Ever wondered what you could make WAY in advance?
Would you like a full Thanksgiving menu with a TIMELINE of what to do when?
Would 10 amazing FOOL-PROOF recipes and a SHOPPING LIST be helpful?
Do you have any questions about YOUR Thanksgiving menu???
On November 12 at 11AM EST (that's 10AM CT/ 9AM MT/ 8AM PT for the rest of us) I'm giving a LIVE 2 hour Zoom workshop in collaboration with Girls Nite Live and we're going to cover ALL of those things!
Plus, I'll be donating my portion of the proceeds to No Kids Hungry. This wonderful non-profit organization is dedicated to ensuring the kids in our country have something to eat.
This is what is included with the class:
Your seat in the live ZOOM class and unlimited access to it afterward
A full Thanksgiving menu
10 fool-proof recipes
Tips and tricks to make hosting Thanksgiving fun and stress-free
Shopping list
Recipe troubleshooting tips
Giveaways
HOW DO I JOIN THE Thanksgiving COOKING CLASS?!!!
If you're already on the edge of your seat waving your virtual hands saying, "I can't wait! You bet I'll be there!" Then click the picture below and sign up. I'm so excited you're coming!!!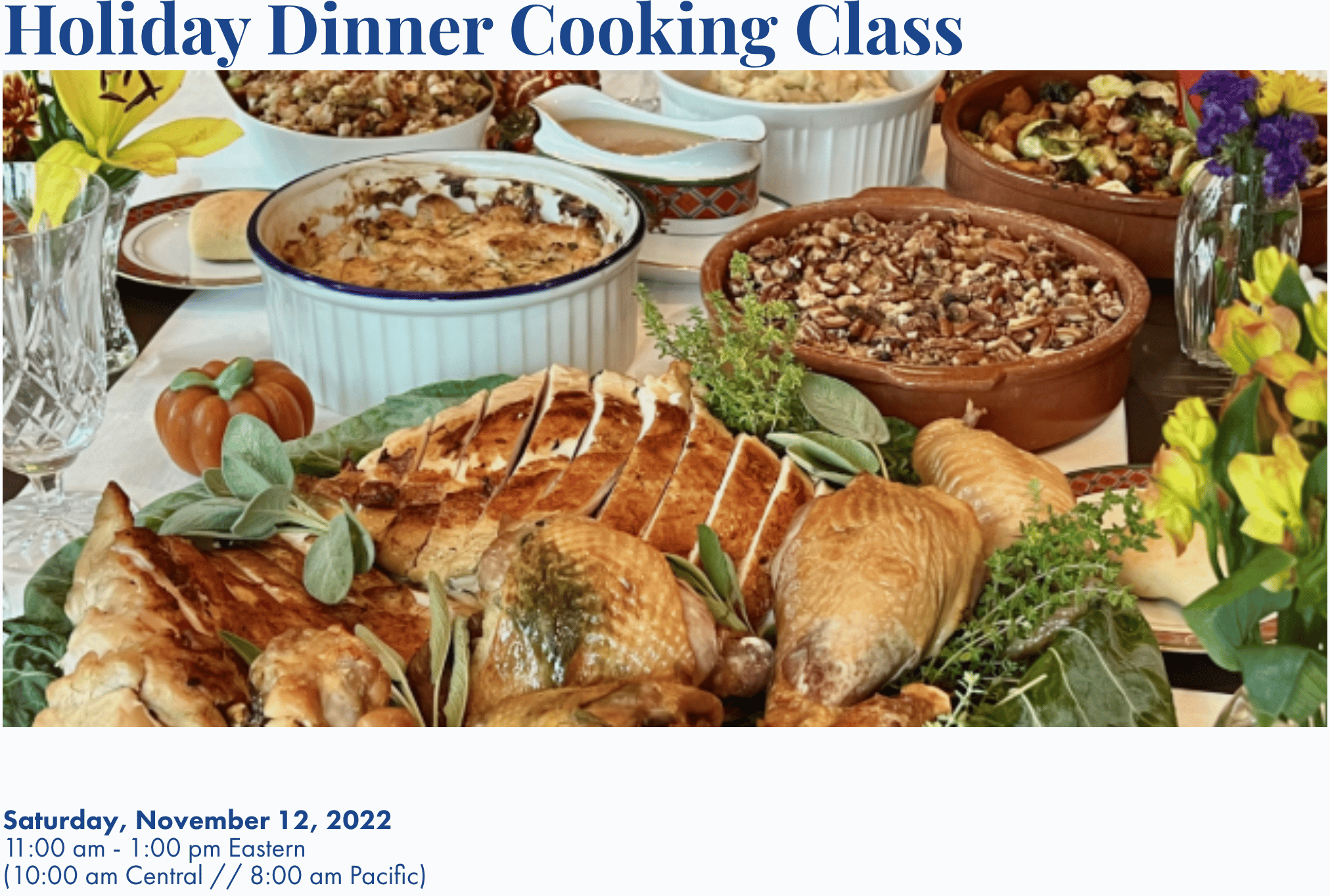 BONUS
Ask me YOUR Thanksgiving questions in my Instagram and FaceBook feed in the comments. I'll make sure to answer them in class. Look for this picture on IG & FB 👇🏼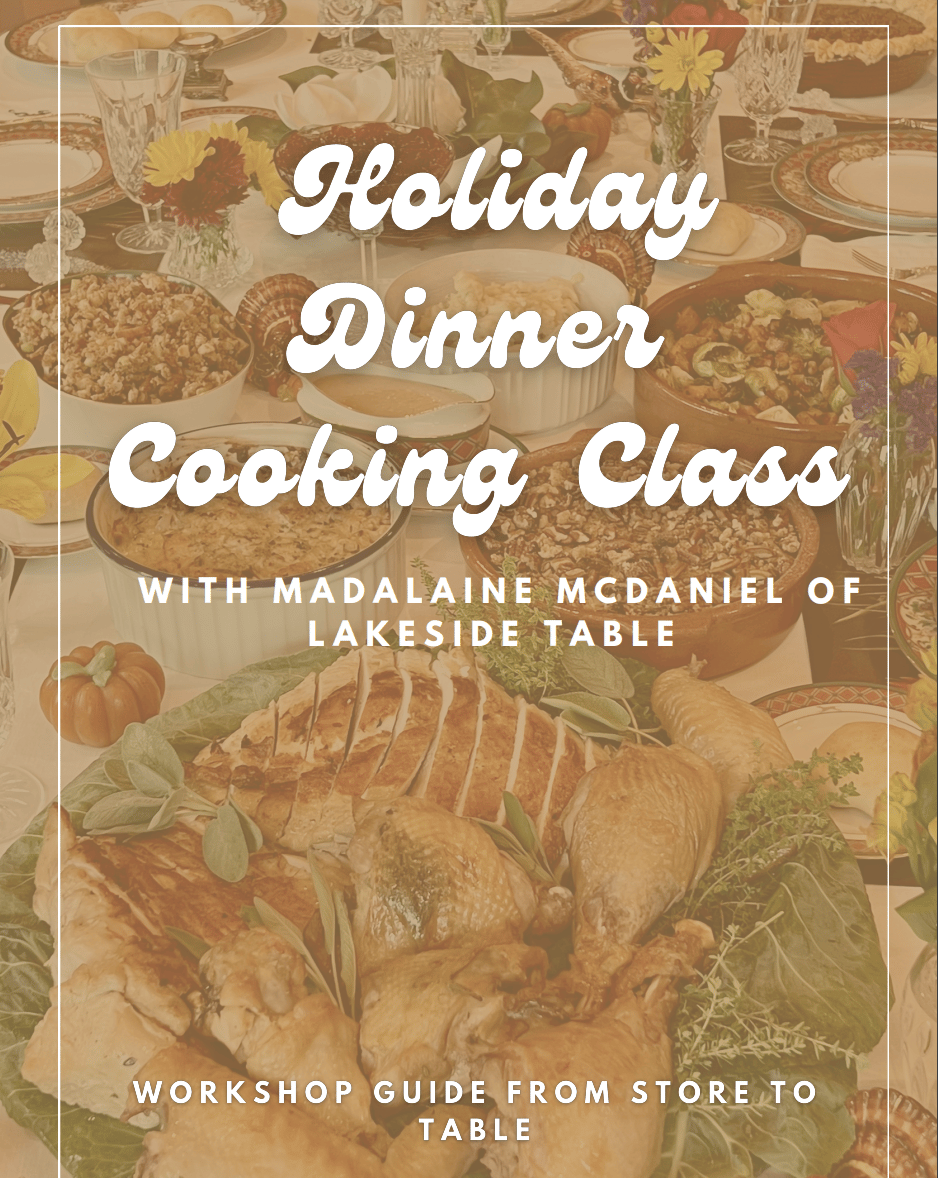 I can't tell you how excited I am to do this class with you!!! I hope to see you there and please remember to ask your questions on IG and FB.