This week on April 16 is National Eggs Benedict Day. However, before we break into the lore behind the origins of one of the most scrumptious breakfast dishes ever, let's indulge in how to make it. Then keep scrolling for a little speculation of how it came about.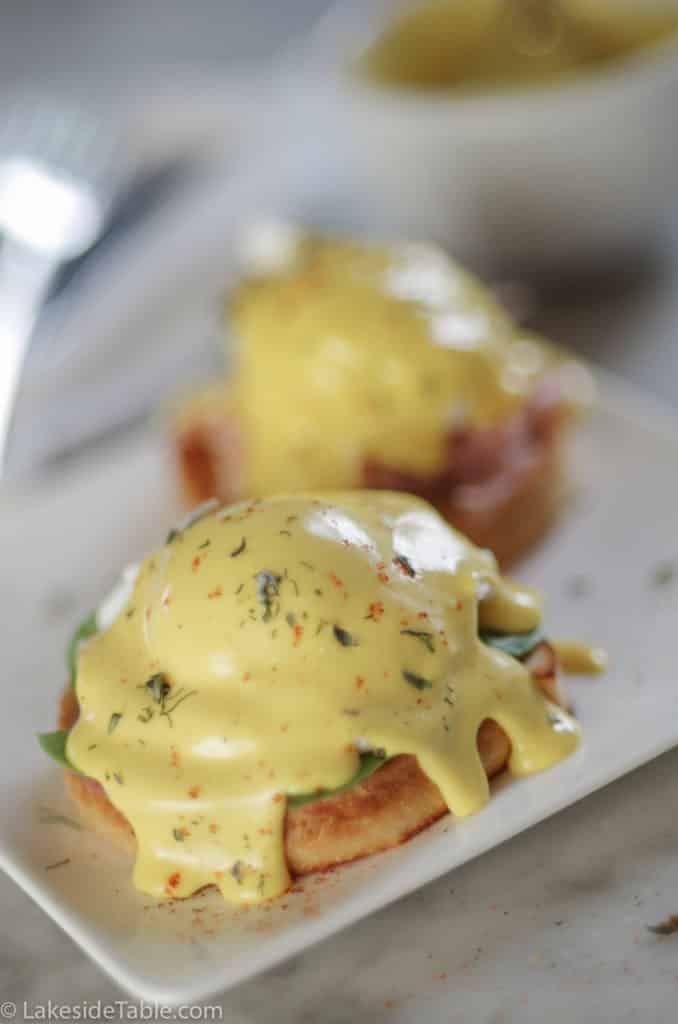 National Eggs Benedict Day Recipe
This isn't so much of a recipe as it is a reminder of how to put it together. Eggs Benedict is a compilation of a toasty English muffin, warm savory ham, perfectly poached eggs, and Hollandaise sauce. Here are some tips to help you put yours together!
Eggs Benedict Ingredients (makes 4)
This recipe includes links for How to Poach Eggs and How to Make Hollandaise Sauce in Minutes. For a true step by step recipe for all components, scroll down to the bottom for a full recipe that is also printable.
2 English muffins, halved
4 eggs, poached
4 – 8 thick slices of ham or Canadian bacon
4 cups fresh baby spinach (optional)
1 tablespoon olive oil (optional)
1 clove of garlic, thinly sliced (optional)
1/2 cup Hollandaise sauce
cayenne pepper
Equipment
Baking sheet
Saucepot
Skillet (optional)
Immersion blender, mini food processor, or small blender
Instructions
Make Hollandaise sauce. This recipe (via the link) makes a great Hollandaise sauce that's quick and easy. It uses 1 stick of butter, 1 egg yolk, a little water, a little lemon juice, salt, and cayenne pepper. It's just the right amount for 4 eggs Benedicts, about 1/2 cup.
Start poaching the eggs. This is a foolproof recipe for eggs (scroll down for the video 👇🏼). You can poach them one at a time or 2 at a time in simmering water.
Turn the oven on broil. Put the ham or Canadian bacon on a baking sheet with the English muffins. Spread 1/2 tablespoon of Hollandaise sauce in the middle of each English muffin half.
Place the baking sheet in the middle rack under the broiler. Broil until the muffins are lightly toasted. Check every 2-3 minutes. Then turn the oven off.
(Steps 5 – 7 optional) Heat the olive oil in the skillet over medium heat for 2 minutes.
Add the sliced garlic and let warm for 2 – 3 minutes to flavor the oil. Then remove garlic.
Add the spinach to the oil and toss for 1 – 2 minutes or until the spinach just starts to wilt. Remove from heat.
Assemble the Eggs Benedict: Place 1 or 2 pieces of ham on each toasted English muffin half. If using spinach, put 1/4 of the spinach on top of the ham. Then add a poached egg and top with Hollandaise sauce. Sprinkle each Benedict with a little cayenne pepper.
Eggs Benedict Recipe Variations
If you choose to use a little spinach in your eggs Benedict, you've technically made an eggs Florentine. (My favorite!) Here are some other additions you can choose to use that might inspire your Benedict creations!
Instead of ham try one of these:
Smoked salmon (Eggs Hemingway)
Bacon
Asparagus
Roasted zucchini
Roast beef
Corned beef
Instead of an English muffin try…
Bagel
Keto Low Carb Bagel
Toast
Grilled Portabella mushroom
Waffle wedge
Hashbrown potatoes
Regardless of how you like to make or eat your eggs Benedicts, they're fun to prepare and they always make a smashing presentation!
Who came up with the first Eggs Benedict?
Well… there's a little speculation behind the origins of this dish. Some say it roots back to Pope Benedict XIII. Apparently, he requested this combination so often it became his signature dish. Others say the New York City restaurant Delmonico's created it and named it in honor of one of their prized patrons, Mrs. LeGrand Benedict.
However, the story that seems to have gained the most popularity also hails from New York but this time places it at the Windsor Hotel. A stockbroker by the name of Lemuel Benedict ordered his eggs this way hoping to remedy his hangover. I wonder if he also ordered a bloody Mary to accompany it?
His original order is believed to be, "buttered toast, poached eggs, crisp bacon, and Hollandaise sauce." The chef was so impressed, after a few modifications, the dish heralded its own place of honor on the menu.
Regardless of how it started, National Eggs Benedict Day is worth celebrating with your own creation or a bite of someone else's. Enjoy!
Eggs Benedict Florentine Recipe
Eggs Benedict is a compilation of a toasty English muffin, warm savory ham, perfectly poached eggs, and Hollandaise sauce. Here are some tips to help you put yours together!
Servings
4
Eggs Benedicts
Ingredients
Hollandaise Sauce
8

tablespoons

butter

unsalted

1

egg yolk

1/2

teaspoon

water

1/2

teaspoon

lemon juice

fresh

1/2

teaspoon

kosher salt

cayenne pepper
English Muffin Base
2

English muffins

halved

4 – 8

slices

Canadian bacon
Poached Eggs
4

eggs

1/4

teaspoon

white vinegar

water
Wilted Spinach
4

cups

baby spinach

fresh

1

tablespoon

olive oil

1

clove

garlic

sliced

kosher salt

to taste

1/4

teaspoon

nutmeg
Instructions
Hollandaise Sauce
Heat the butter until it's almost too hot to touch on the stove or in the microwave, but don't brown it.

In a container just large enough to accommodate an immersion blender*, add the yolk, water, and lemon juice. Blend until combined.

Slowly, drop by drop, add the very hot butter while blending on high. When 1/2 of the butter has been added, then you can add it faster in a very small stream while blending on high.

If sauce is too thick, add drops of water until you reach your desired consistency.

Add salt and cayenne pepper to taste. Set aside.
Poached Eggs
Bring 3 inches of water to a rapid boil.

Add 1/4 teaspoon vinegar to the water and swirl it into a vortex.

Carefully crack egg** into the center of the vortex and cover the pot with a tight lid.

Remove poached egg onto paper towel and repeat with the rest of the eggs.
English Muffins and Ham
Turn oven on to a high broil.

Split English muffins in half and spread 1/2 tablespoon of Hollandaise sauce on each one.

Place the muffins and ham onto a baking sheet and place on the middle rack in the oven. Broil until muffins are lightly toasted, about 3 – 4 minutes.

Remove from oven and set aside.
Spinach
Heat olive oil in a skillet over medium-high heat until oil starts to shimmer.

Place the sliced garlic in skillet for 2 minutes or until very lightly browned.

Remove garlic and discard.

Put all the spinach into the skillet and toss for 1 minute or until just barely wilted. Sprinkle with nutmeg. Then remove from heat.
Assembling Eggs Benedict
Put 1 or 2 pieces of ham on each English muffin.

Cover ham with wilted spinach.

Place a poached egg on each muffin and top with Hollandaise sauce.

Sprinkle with cayenne pepper.
Recipe Notes
*Immersion blender – if you don't have an immersion blender, a regular small/mini blender or small food processor both work very well.  At the very least you can go old school and do it by hand (which takes MUCH longer) with a bowl and whisk.
**Egg cracking: Doing one egg at a time seems to produce beautifully poached eggs.  I've done 2 and 3 eggs at once with great success.  4 eggs at once continues to prove a challenge in the beauty department.
Nutrition Facts
Eggs Benedict Florentine Recipe
Amount Per Serving
Calories 474
Calories from Fat 324
% Daily Value*
Fat 36g55%
Cholesterol 301mg100%
Sodium 1207mg52%
Potassium 477mg14%
Carbohydrates 16g5%
Protein 21g42%
Vitamin A 3816IU76%
Vitamin C 9mg11%
Calcium 88mg9%
Iron 2mg11%
* Percent Daily Values are based on a 2000 calorie diet.