Hollandaise sauce made the traditional way is tricky and it can turn on you in a heartbeat. If you use this fool proof method you can make a classic hollandaise sauce in less than a minute every time.  I'm so excited about it, I made a free mini course all about it! (here it is if you want to check it out)
In addition to this free mini course, I'm currently working on 2 larger courses.  The next one is on the 5 Mother Sauces: béchamel, velouté, espangole, tomato sauce and hollandaise.  Then later this year, I'll be releasing one on over 30 secondary sauces made from the fundamental mother sauces.
There are 3 reasons why I love this recipe so much.  First, it's fast and easy.  Secondly, it's the perfect amount for 2 or 3 people.  It makes about 1/2 cup which is plenty for a rich decadent sauce like this.  Believe me, little goes a long way.
Lastly, it adds huge flavor!  Hollandaise is velvety smooth, tangy with hints of lemon.  With a pinch of cayenne, it's got a baby blast of heat too.
How to Make 1 Minute Hollandaise
Melt 1 stick of butter in a saucepan, bring it up to 220F.
Whisk together 1 egg yolk, 1 teaspoon fresh lemon juice, 1 teaspoon cold water, 1/4 teaspoon salt and a pinch of cayenne pepper in an immersion blender cup.
In a small stream, carefully pour the hot butter into the yolk mixture while continuously beating with the immersion blender.
What do you you do if don't have a thermometer handy?  As soon as the stick of butter has melted and it's boiling, it's ready.  However, make sure it doesn't brown.
No immersion blender?  No problem!  You can also use a small blender, mini food processor or electric beaters.
Why Sign Up for the Free Course?
You have everything you need to make this beautiful and supremely delicious hollandaise sauce right now.  What else is there to talk about?  First of all, you'll find a straight forward video on how to make it and recipes to pair with it.
Then I included a troubleshooting guide.  After finishing the course you'll know how how to fix it if it's too thin, too thick or if it the sauce breaks.  Lastly, I threw in a few questions my classmates and I had during culinary school and our mentor chef's helpful answers.
Classic Hollandaise Sauce or an Imposter?
So many times we find short cuts and hacks on the internet and sure they work… kinda.  But they usually change the ingredients so you get more or less a poor shadow of what you're trying to make.  That is NOT the case with this method for hollandaise.  All of the ingredients and ratios are exactly the same for a traditionally classic hollandaise sauce.
I think Escoffier would have used this method if he had access to our modern kitchen appliances.  Hollandaise sauce has always been made on the stove with a double boiler.
Is Hollandaise Sauce Safe to Eat?
In order to kill off Salmonella bacteria, an egg needs to cooked to an internal temperature of 160F. Even though the butter temperature is 220F, by the time it is poured back over the yolk mixture it may not be at the desired 160F temperature.
For peace of mind after your hollandaise is finished, put it back on the stove and bring it to 160F.  If it brakes, whisk in cold water a teaspoon at a time until it returns to its smooth state.
What to Serve with Hollandaise
This classic hollandaise sauce is perfect for a lazy Sunday morning brunch over eggs Benedict,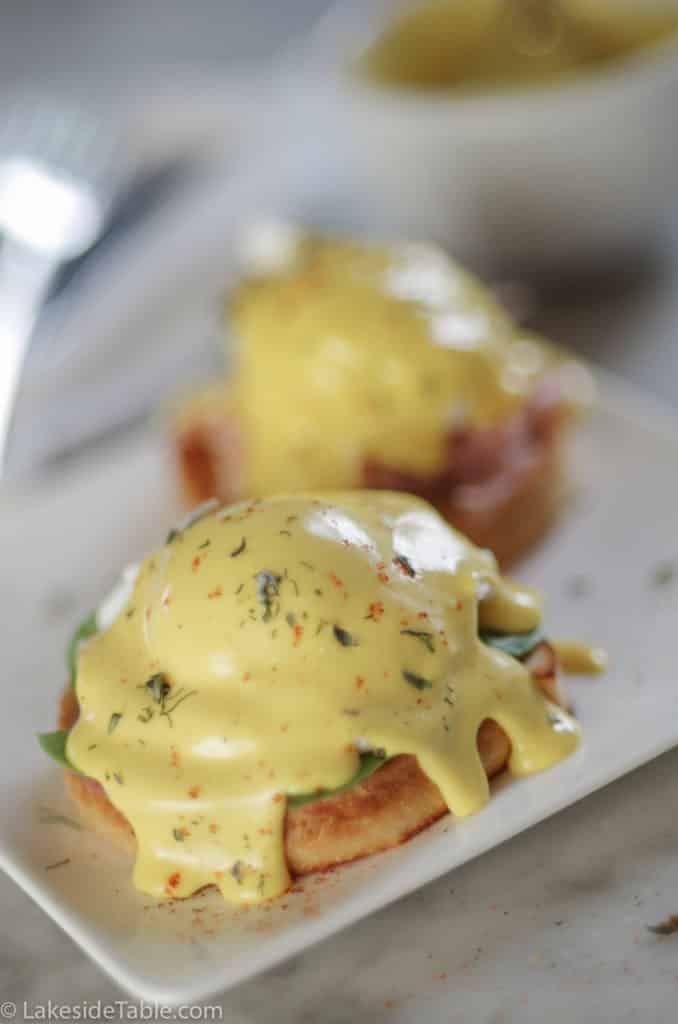 drizzled over steamed broccoli or asparagus,
and I love it over baked salmon.