Hollandaise sauce made the traditional way is tricky and it can turn on you in a heartbeat. If you use this fool proof method you can make a classic hollandaise sauce in less than a minute every time.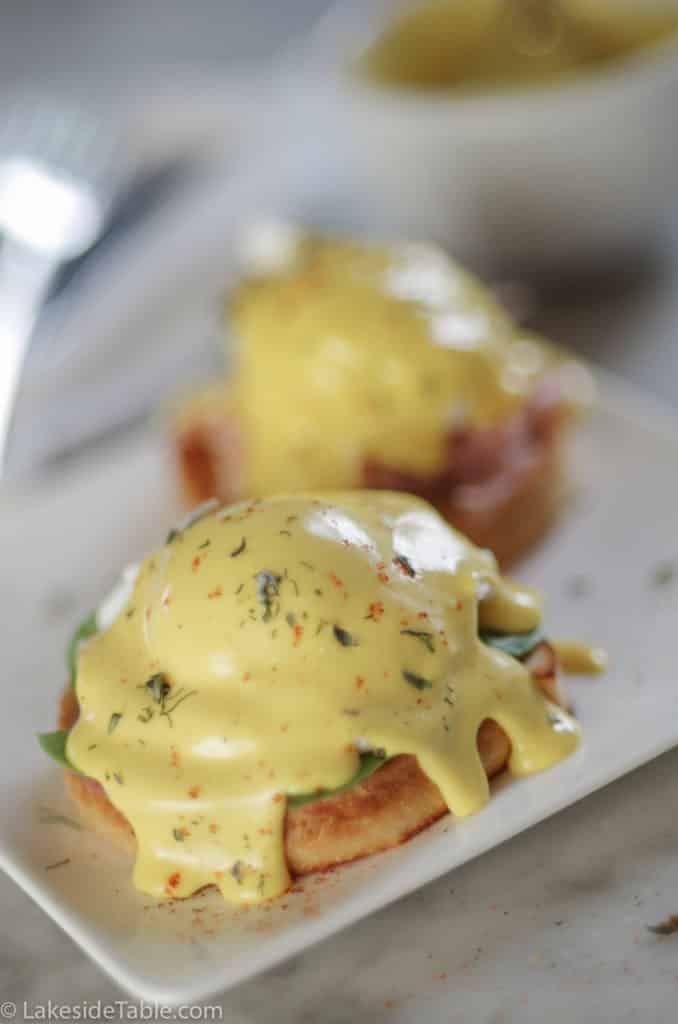 Part of our course work in culinary school was on sauces. I got so excited about them, I made a free mini course all about Hollandaise Sauce! (here it is if you want to check it out)
Why this method Kicks Butt!
First, it's fast and easy.
Secondly, it's the perfect amount of Hollandaise sauce for one or two people. It makes about 1/2 cup which is plenty for a rich decadent sauce like this. Believe me, little goes a long way.
Lastly, it adds huge flavor! Hollandaise is velvety smooth, tangy with hints of lemon. Add a pinch of cayenne, and it's got a baby blast of heat.
How to Make 1 Minute Hollandaise
Melt 1 stick of unsalted butter in a saucepan over medium heat, bring it up to 220F.
Whisk together an egg yolk, 1 teaspoon fresh lemon juice, 1 teaspoon cold water, 1/4 teaspoon salt and a pinch of cayenne pepper in an immersion blender cup.
In a small stream, carefully pour the hot butter into the yolk mixture while whisking constantly with the immersion blender.
Taste and add salt and pepper to your liking.
What do you you do if don't have a thermometer handy? As soon as the stick of butter has melted and it's boiling, it's ready. However, make sure it doesn't brown.
Microwave method: melt butter in microwave, be sure to stop it every 20 seconds and stir so it doesn't explode and make a mess. After 1 minute, it should be melted. Nuke it for another 1 minute to make sure it's piping HOT!
No immersion blender? No problem! You can also use a small blender, mini food processor or electric beaters.
Can you make the Classic Hollandaise Sauce Ahead of Time?
Short answer: YES!!! This is method is so fast and easy to do, why do it ahead of time? 2 reasons: 1) unless you've made it so many times you are beyond confident, making anything in front of guests can be nerve wracking.
So go ahead, take a deep breath and make it before your peeps come over. That way, if you sauce does break you've got time to fix it.
Second reason to make it ahead: 2) If you have leftovers it's a pure shame to pour it down the drain. If you have some left over, refrigerate it for up to 2 days.
Keep it warm by setting the container in a warm water bath or warm it up by microwaving it for 20 seconds on high, stir, then 10 more seconds. If it curdles or separates, add a teaspoon of cold water and stir. Enjoy!
Why did my Hollandaise break and why is it so runny? And How to Fix a broken Hollandaise Sauce
The 2 main reasons a Hollandaise sauces breaks or is runny is because either 1) the butter was poured in too fast and/or 2) the butter wasn't hot enough.
If this happens try this:
1) FIRST try adding 1 teaspoon cold water while blending the sauce. Still not thick and luscious?
2) Pour the broken/runny sauce as if it was the hot butter into another egg yolk with 1 teaspoon lemon juice VERY slowly while blitzing in a blender or with an immersion hand blender.
What to Serve with Hollandaise
Recently I made a breakfast burrito with eggs, cheese, sausage, avocado, salsa and a generous pour of hollandaise. Wow! Was that delish!!!
This classic hollandaise sauce is perfect for a lazy Sunday morning brunch over eggs Benedict, (here's my foolproof poached egg method in 5 minutes)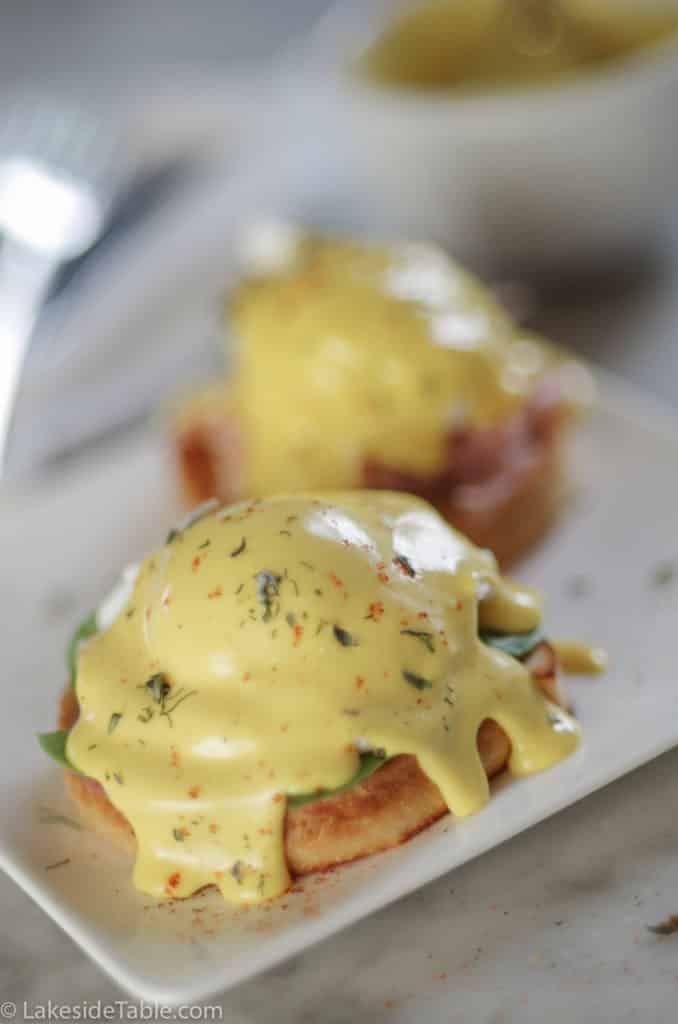 drizzled over steamed broccoli or asparagus,
and I love it over baked salmon.
More Sauces to Love
1 Minute Classic Hollandaise Sauce
This fool proof method makes a rich creamy buttery classic Hollandaise sauce in 1 minute after you melt the butter. Use it on eggs Benedict, salmon, or your favorite veggies!
Ingredients
8

tablespoons

butter

unsalted

1

egg yolk

1

teaspoon

lemon juice

fresh

1

teaspoon

water

1/4

teaspoon

salt

1

pinch

cayenne pepper
Instructions
Melt butter and heat to 220F. If you don't have a thermometer, heat butter until it boils but doesn't brown.

Whisk together yolk, lemon juice, water, salt and cayenne pepper.

In a very slow stream, drizzle the hot butter into the egg mixture while blending on high in a blender or with an immersion blender until desired consistency.
Recipe Notes
What to do if your hollandaise sauce breaks:
Whisk in 1 -2 teaspoons of cold water.  Or…
Whisk another egg yolk separately, then whisk in the broken sauce.
Nutrition Facts
1 Minute Classic Hollandaise Sauce
Amount Per Serving
Calories 216
Calories from Fat 216
% Daily Value*
Fat 24g37%
Cholesterol 109mg36%
Sodium 348mg15%
Carbohydrates 1g0%
Protein 1g2%
Vitamin A 765IU15%
Vitamin C 1mg1%
Calcium 13mg1%
Iron 1mg6%
* Percent Daily Values are based on a 2000 calorie diet.