Hollandaise sauce made the traditional way is tricky and it can turn on you in a heartbeat. If you use this fool proof method you can make a classic hollandaise sauce in less than a minute every time. 
Enter to Win a $50 Amazon Gift Card
That's it!  You are officially entered!  Deadline to enter is 11:59pm April 30, 2020.  Winner will be drawn at random on Facebook LIVE and will be emailed personally.   Good luck and have fun!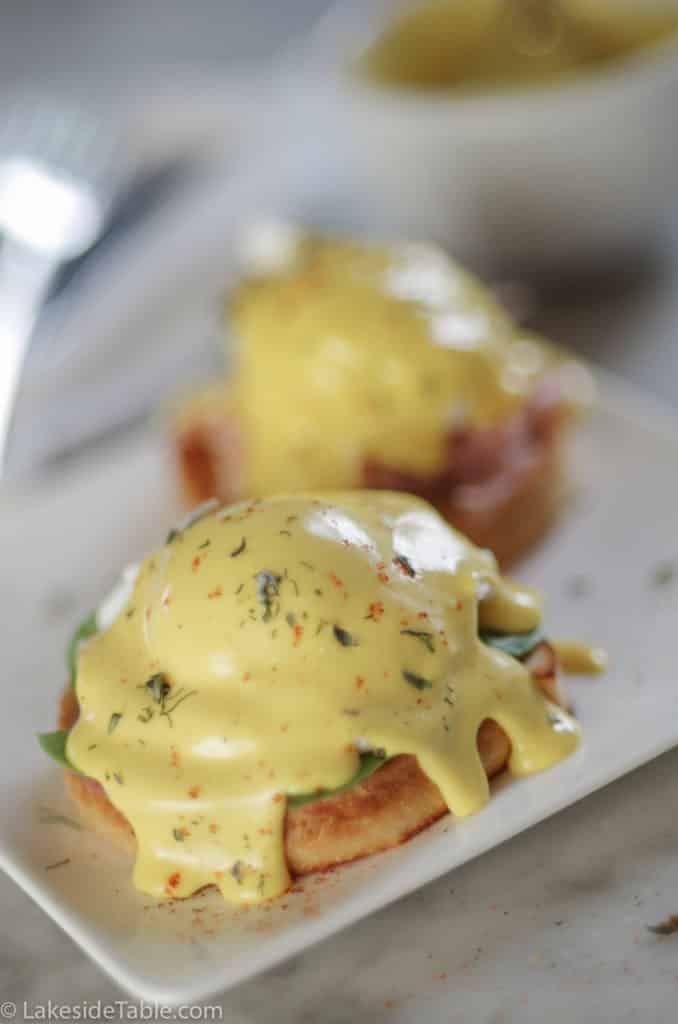 If you make it, please tag me @lakesidetable on Facebook or Instagram. 😃I can't wait to see your Hollandaise!!!
Jerry loves to remind that the flavor is IN THE SAUCE!  He always asks, "Are we having a sauce with dinner tonight?" When the answer is YES, he dances.  (I'm not joking!)
Part of our course work in culinary school was on sauces.  I got so excited about them, I made a free mini course all about Hollandaise Sauce! (here it is if you want to check it out)
In addition to this free mini course, I'm currently working on 2 larger courses.  The next one is on the 5 Mother Sauces: béchamel, velouté, espangole, tomato sauce and hollandaise. 
Then later this year, I'll be releasing one on over 30 secondary sauces made from the fundamental mother sauces.
There are 3 reasons why I love this recipe so much.  First, it's fast and easy.  Secondly, it's the perfect amount for 2 or 3 people.  It makes about 1/2 cup which is plenty for a rich decadent sauce like this.  Believe me, little goes a long way.
Lastly, it adds huge flavor!  Hollandaise is velvety smooth, tangy with hints of lemon.  With a pinch of cayenne, it's got a baby blast of heat too.
How to Make 1 Minute Hollandaise
Melt 1 stick of butter in a saucepan, bring it up to 220F.
Whisk together 1 egg yolk, 1 teaspoon fresh lemon juice, 1 teaspoon cold water, 1/4 teaspoon salt and a pinch of cayenne pepper in an immersion blender cup.
In a small stream, carefully pour the hot butter into the yolk mixture while continuously beating with the immersion blender.
What do you you do if don't have a thermometer handy?  As soon as the stick of butter has melted and it's boiling, it's ready.  However, make sure it doesn't brown.
No immersion blender?  No problem!  You can also use a small blender, mini food processor or electric beaters.
Tools I Use & Find Helpful
Below are affiliate links of some helpful tools I like to use for this recipe.  If you shop through these links, I'll earn a small commission. It's like a tip for bringing you this content.  Plus it helps pay for the website so I don't have to install those pesky pop up ads & banners.  😊
For $39.99 this is the one I started with and really liked.  Chef Niall and Kristie blessed me with a Mini Pro from Dynamic a couple years ago.  I love it so much (and it's crazy expensive!),  I plan to be buried with it.
Mueller Immersion Blender
For a little less ($29.99), I like that this one comes with a milk frother and a whisk, but no convenient cup.  I haven't used this model but I've heard good things about it.
Mini Bullet Blender
I had this blender for nearly 10 years before I wore it out!  It's a work horse for $37.

This link is to a Lavatool Javelin instant read thermometer and it's $50.  To be completely transparent, I use a Thermoworks Thermapen that sells for $100.  I'm not an affiliate for Thermoworks so I can't link you there.
Why Sign Up for the Free Course?
You have everything you need to make this beautiful and supremely delicious hollandaise sauce right now.  What else is there to talk about?  First of all, you'll find a straight forward video on how to make it and recipes to pair with it.
Then I included a troubleshooting guide.  After finishing the course you'll know how how to fix it if it's too thin, too thick or if it the sauce breaks.  Lastly, I threw in a few questions my classmates and I had during culinary school and our mentor chef's helpful answers.
Classic Hollandaise Sauce or an Imposter?
So many times we find short cuts and hacks on the internet and sure they work… kinda.  But they usually change the ingredients so you get more or less a poor shadow of what you're trying to make.  That is NOT the case with this method for hollandaise.  All of the ingredients and ratios are exactly the same for a traditionally classic hollandaise sauce.
I think Escoffier would have used this method if he had access to our modern kitchen appliances.  Hollandaise sauce has always been made on the stove with a double boiler.
Is Hollandaise Sauce Safe to Eat?
In order to kill off Salmonella bacteria, an egg needs to cooked to an internal temperature of 160F. Even though the butter temperature is 220F, by the time it is poured back over the yolk mixture it may not be at the desired 160F temperature.
For peace of mind after your hollandaise is finished, put it back on the stove and bring it to 160F.  If it brakes, whisk in cold water a teaspoon at a time until it returns to its smooth state.
Hollandaise Hack: Lazy Day Hollandaise
I'm going to be honest.  There are days I just do not have it in me to boil water let alone melt an entire stick of butter.  BUT I still want that tangy lemony sauce WITHOUT any more effort than it takes to pour a bowl of cereal. 
On these days, I'll make Lazy Day Hollandaise.  This is simply 1 part Dijon mustard and 1 part sour cream.   If there's no sour cream in the house, real mayo will work in a pinch.
Even though it's a little thicker than the real deal, it still has that tangy zip that partners perfectly with anything you'd serve with a classic Hollandaise sauce.
What to Serve with Hollandaise
This classic hollandaise sauce is perfect for a lazy Sunday morning brunch over eggs Benedict,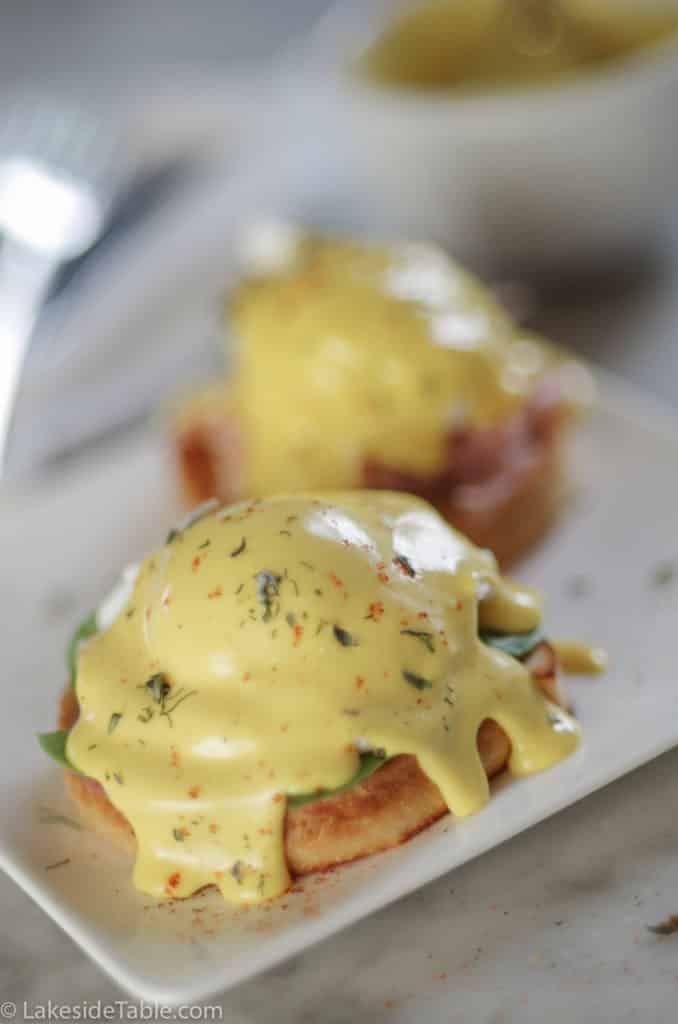 drizzled over steamed broccoli or asparagus,
and I love it over baked salmon.
1 Minute Classic Hollandaise Sauce
This fool proof method makes a rich creamy buttery classic Hollandaise sauce in 1 minute after you melt the butter. Use it on eggs Benedict, salmon, or your favorite veggies!
Ingredients
8

tablespoons

butter

unsalted

1

egg yolk

1

teaspoon

lemon juice

fresh

1

teaspoon

water

1/4

teaspoon

salt

1

pinch

cayenne pepper
Instructions
Melt butter and heat to 220F. If you don't have a thermometer, heat butter until it boils but doesn't brown.

Whisk together yolk, lemon juice, water, salt and cayenne pepper.

In a very slow stream, drizzle the hot butter into the egg mixture while blending on high in a blender or with an immersion blender until desired consistency.
Recipe Notes
What to do if your hollandaise sauce breaks:
Whisk in 1 -2 teaspoons of cold water.  Or…
Whisk another egg yolk separately, then whisk in the broken sauce.
Nutrition Facts
1 Minute Classic Hollandaise Sauce
Amount Per Serving
Calories 216
Calories from Fat 216
% Daily Value*
Fat 24g37%
Cholesterol 109mg36%
Sodium 348mg15%
Carbohydrates 1g0%
Protein 1g2%
Vitamin A 765IU15%
Vitamin C 1mg1%
Calcium 13mg1%
Iron 1mg6%
* Percent Daily Values are based on a 2000 calorie diet.